Posted by Big Gav in green buildings, london
Green-ish Building of the week is this tower being built near Elephant and Castle in London - London landmark building will generate 8% of its energy needs.

Peering down 148 metres from the top of the latest addition to London's skyline, the traffic-clogged Elephant and Castle roundabout and its notorious neighbour, the Heygate estate, below feel an unlikely location for a world first. But next week, this new skyscraper, nicknamed "the Razor", will take a crucial step towards becoming the world's first building with wind turbines built into its fabric.

While wind speeds in the concrete jungle at the tower's base would render a wind turbine pointless, at 42 storeys up they are capable of 35mph gusts – a serious challenge for the workers who created the complex steel structure – and are projected to generate 8% of the building's electricity needs.

The building – officially called the Strata tower – is a £113m milestone in the £1.5bn project to regenerate the Elephant and Castle area. The Strata development, which comprises the tower and a smaller "Pavillion" building, is a statement of the new demographic Southwark council hopes the area will attract – its 408 apartments range from £230,000 to £2.5m.

But the tower also marks an innovation for the building sector, which under government regulations will have to make all new buildings zero-carbon by 2019.

Justin Black, director for Brookfield, the developer, said the decision to choose wind was a "conscious decision to experiment". He pointed out that the entire southern facade of the building would have had to be covered in solar photovoltaics to generate the same amount of energy. "The brief we gave to Hamilton's Architects was we wanted a statement, we wanted to create benchmarks for sustainability and urban living. We wanted something bold, we wanted remarkable. It's what I term Marmite architecture – you either love it or you hate it, there's no in between," Black said.

Next week the blades for the 9m-diameter turbines arrive on site and will be winched on to the roof for installation in early April, before the building is opened by London major Boris Johnson – circumstances permitting – on 1 July. The 19kW turbines, which were made bespoke for the project, will have five blades rather than the usual three to reduce noise. Vibrations to the rest of the building should be eliminated by a five-tonne base fitted with four anti-vibration dampeners.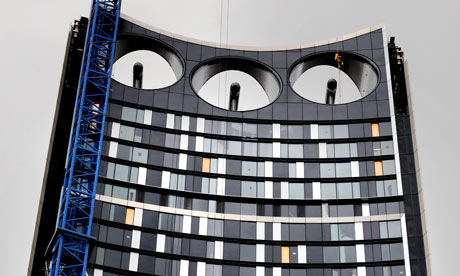 Inhabitat has more -
The Strata: World's First Skyscraper With Built-In Wind Turbines
.
Measuring in at 42 stories tall, the Strata tower has enough height to eclipse the buildings surrounding it, allowing it to take full advantage of the area's 35mph wind speeds. The tower is also designed to utilize the Venturi effect created by nearby structures to force wind through the turbines at accelerated rates, generating an expected 50MWh of electricity annually.