Posted by Big Gav in global warming
The Guardian reports that CO2 levels keep rising - CO2 levels hit record high.
The amount of carbon dioxide in the atmosphere has risen to a record high – again.

For the past nine years the UN World Metereological Organisation has produced an annual greenhouse gas bulletin, with each year notching up a record high for average annual levels, and figures published on Wednesday show 2012 was no exception.

This isn't particularly surprising – in September the UN's climate science panel, the IPCC, told us that atmospheric CO2 concentrations were at levels "unprecedented in at least the last 800,000 years." In May this year, CO2 levels briefly passed the symbolic milestone of 400 parts per million (ppm), considerably higher than the average for 2012 of 393.1ppm. As we reported at the time:

...the last time so much greenhouse gas was in the air was several million years ago, when the Arctic was ice-free, savannah spread across the Sahara desert and sea level was up to 40 metres higher than today.

As the WMO points out, the amount of CO2 in the atmosphere is only half of the picture. Much of the CO2 we're responsible for is being absorbed by the oceans, which Prof Piers Forster, a climate scientists at the University of Leeds, says will catch up with us eventually ...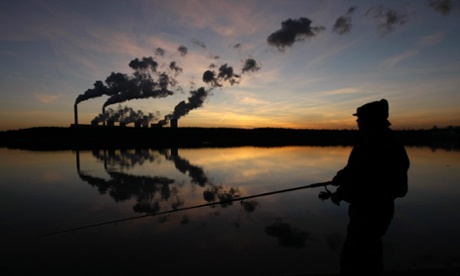 Climate Progress reports it has been the hottest September ever - Hottest September On Record, Fastest Pacific Warming In 10,000 Years, Warmest Arctic In 120,000 Years.
It's been a hot week for global warming.

NASA released global temperature data showing that this September tied with 2005 for the warmest September on record. That's doubly impressive since 2005 was warmed by an El Niño and accompanying warm Pacific ocean temperatures, whereas 2013 has had cooler Pacific temperatures all year.

Greenhouse gases keep warming the planet to unprecedented levels with unprecedented speed. That's the conclusion of two new studies out this week.