Posted by Big Gav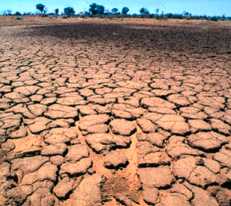 The Herald comments today that the government may, if it doesn't wish to go down in history as the most stupid in the history of the nation, want to begin thinking about where our water is going to come from in future. And even though the bits of Perth that haven't blown away are under water, thats may only be a brief wet blip in an otherwise seemingly inexorable slide into desertification on the west coast.

90 per cent of the largest state is drought-declared, yet again thousands of farmers are in financial distress, the river system is falling apart, the landscape has been cleared, scoured and eroded, leading to desertification, leading to a hotter landscape, leading to less rain, a water shortage for Sydney and catastrophic water levels in some country towns. People are obsessed with water and survival.

Peter Costello had nothing new or consequential to say about this in the 2005 budget and its aftermath, instead talking about "the drought" as if it were some speed bump on the economic highway. It's time he got new advice. On March 1, the Bureau of Agriculture and Resource Economics released a paper confirming the obvious: "Australia's water shortages may get worse." A Roy Morgan International poll released on April 29 found 88 per cent of Australians agreed with the statement: "If we don't act now we'll never control our environmental problems."

Someone tell Howard and Costello. They may form one of the most successful leadership teams this country has ever had. Yet because they can't read the weather they may end up with a legacy they never envisaged: they could go down as one of the most reckless leadership teams Australia has ever had. It's too early to tell. The long lens of history cannot yet come into focus.

It would be useful if, in two weeks, the Prime Minister attended a keynote address on May 29 at the Sydney Writers' Festival. It will be delivered by the American geographer Professor Jared Diamond, a Pulitzer Prize-winning author whose new book, Collapse, charts the history of civilisation collapse caused by environmental failure. Diamond sees history repeating itself. Australia gets an entire chapter because of its growing and unsustainable divide between consumer wealth and environmental poverty.

His warning connects to another element in the Howard legacy, the strong relationship with President George Bush. Whatever one may think of the Bush imperium, the most disturbing aspect of his Administration is its attitude to global climate change. Against an overwhelming scientific consensus, the Bush Administration clings to the argument that the massive chain reactions in the global climate system may not have been triggered by human intervention. So it's business as usual.

For the past three weeks, The New Yorker, one of the best and most carefully checked magazines in the world, has run a series of articles by Elizabeth Kolbert about the chain reactions now under way in the global climate system. Rather than try to summarise the series I quote its final paragraph, and ultimate conclusion: "It may seem impossible to imagine that a technologically advanced society could choose, in essence, to destroy itself, but that is what we are now in the process of doing."